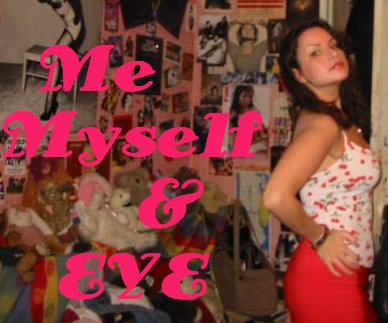 DOB: 8/02/76 (yeek!)
Sign: Leo/Dragon
Height: Five Feet, Four and One Quarter Inches
Weight: 127
Hair: Brown
Eyes: Brown, Scary
Fragrance: Samsara, Diorella, Fracas, Sicily

Food: Indian,Tibetan,Ethiopian,Senegalese,Japanese,Cajun,
Moroccan,Mediterranean,Israeli, Mexican, Spanish, Italian,Soul Food,
Spirulina Balls, Quorn Cutlets,
Zone Perfect Bars, Guacamole
(and any other concoction of the almighty avocado)
Cucumber,Hummus & Cheddar sandwiches
Nachos, Chili, Coconut Cream Pie,Ripe Berries
Channa Masala, Shitake & Portobello Mushrooms,
Bok Choi, Kale, Seaweed,
Scharfen Berger Chocolate, NeuHaus Strawberry Truffles,
Juicy Pear JellyBellies, Sour Apple Anything,
Music: Anything Out of Memphis, Soul, Arena rock,
Funk, Mambo, Folk, Glam Rock, Bad Hair Metal, Acid Rock,
Late 70's St. Mark's Punk, Early 90's Seattle Stuff,
Jazz, Terrible 80's Synth Pop, Motown,
Show Tunes, Big Band, Old School Rap
Gospel, Blues and Religious Spirituals
Bands and Singers: The Doors, Johnny Cash, Devo
Leonard Cohen, John Lee Hooker, Screamin' Jay Hawkins
Lou Reed, Ella Fitzgerald, James Brown, The Beatles,
STP, Iggy Pop, The Rolling Stones, OutKast, Black Sabbath,
Little Richard, Dave Brubeck, Stevie Wonder, No Doubt,
Madonna, DeLaSoul, Digital Underground, PreSellout Metallica,
Otis Redding, Faith No More, Nirvana, Led Zeppelin,Louis Armstrong,
Jimi Hendrix, Cyndi Lauper, The Ramones, Paul Simon,
Miles Davis, Thelonious Monk, Guns N' Roses, Tool, John Coltrane,
The Clash, Mahalia Jackson, L7, Sarah Vaughn, Black Flag,
New York Dolls, Talking Heads, Bessie Smith, Bird and Diz,
Culture Club, Alice in Chains, Rollins Band, Queen, The Misfits,
Thicke, Jamiroquai, Beethoven,Bob Dylan, Jeff Buckley, Tim Buckley,
Mike Nesmith, Pearl Jam, Soundgarden, Marvin Gaye, Barry White,
David Bowie, Slick Rick, Diana Krall, Al Green
Authors: Vladimir Nabokov, Eric Schlosser, Amy Zarkos
Oscar Wilde, Jeffrey Steingarten, W.H. Auden,
Dorothy Parker,Tolkien, Lord Byron, Adam Weisen,
P.G. Wodehouse, Steven King, Sophocles, Peter Straub,
Emily Dickinson, Robert Frost, Margaret Atwood,

Movies: (favorites of all time, to date)
Jaws, Chopper, Times Square, The Crow, The Original Stepford Wives,
the ORIGINAL Texas Chainsaw Massacre, Mommie Dearest,
Enter the Dragon, They Live,91/2 Weeks,
Heavy Metal, Schindler's List, Thin Red Line,
EXCALIBUR,Fight Club, Kung Pow,Henry & June,
To Sir, With Love,Deliverance,Wet Hot American Summer,
Adrian Lyne's Lolita, LOTR-FOTR,TT,RotK,
And the Band Played on,Apocalypse Now,
Monty Python and the Holy Grail
Suspiria, Das Boot,the Shining,American Pimp,The Last Unicorn,
Any Sean Connery Bond,Platoon, Crouching Tiger, Diner
All the Star Trek movies, Heathers,Les Triplets Du Belleville,The Wild Saragossa Sea
The Exorcist, One Flew Over the Cuckoo's Nest,
Amelie, Badlands, Spirited Away,Kiki's Delivery Service,
GoodFellas, A Clockwork Orange,Nightmare Before Christmas,
The Handmaid's Tale, Natural Born Killers, Crying Freeman
Some Kind of Wonderful, Edward Scissorhands,
Before Night Falls, O Brother, The Mack, Willie Dynamite
The Rocky Horror Picture Show, Club of the Discarded,
The Usual Suspects, Grease, Full Metal Jacket,
The Warriors, Best in Show, Brazil
Original Star Wars Trilogy, A Mighty Wind,
Star Woids
T.V. Shows: The Simpsons, Futurama, Taxi,
The Golden Girls, Cop Rock, Star Trek: TNG,
Andromeda, Conan O'Brien, The Odd Couple,
Kids in the Hall, all the Law and Orders,
Mr Show,The State, Homicide, OZ,
The Daily Show, St.Elsewhere, The Honeymooners,
Hill Street Blues, The Incredible Hulk, V,
Animaniacs, The Oblongs, The Muppet Show
Actors,Actresses and General Personalities:
Christopher Walken, Eric Bana, Kevin Spacey,
Ian McKellen, Hef, Henry Rollins, Paul Giamatti,
Elias Koteas, Patricia Clarkson, Ron Jeremy,
Alan Cumming, William H. Macy, Helen Mirren,
Hank Azaria, Willem Dafoe, Alfred Molina,
Elaine Stritch, Grover, Sam Rockwell, Peter Sellers,
Edward Norton, Christopher Guest, Al Sharpton,
Bruce and Brandon Lee, Judi Dench, Richard Coyle,
John Malkovitch, Maggie Smith, Will Ferrell, Angelina Jolie,
Derek Jacobi, Leo McKern, Clive Owen, Jean Reno,
Harry Shearer, Eugene Levy, Vincent D'onofrio,Sonny Chiba,
Ben Kingsley, Catherine O'Hara, Lewis Black,
Steve Buscemi, Morgan Freeman, Ian Holm, Philip Seymour Hoffman,
DeNiro, Pacino, Jason Statham, Vinnie Jones
Artists: Hirschfeld, Dali, Escher,
Steinberg, Schnabel, Lichtenstein, Maddocks,
Brian Froud, Warhol, Neiman, Latrec, Pollock,

Dirty Old Men
The Winter Uglies
23 year olds who get Botox
Ubiquitous Fake Louis Vouitton
SUV's in the City
Fur thats not still attatched to an animal
Aging
Renee 'Pickles' Zelleweger
Lifetime: Television for Victims
Village Voice Transexual Masseuses who are Prettier than Me
The Low Carb Fanatacism
The Anal Violation that is TicketMaster
My Upstairs Neighbors and their Lead Feet and their Kenny FUCKING G...
My Nose in Every Damn Photo
Chain Smoking 13 year olds
The Fact That I live in A Universe where Bennifer was Headline News for TWO YEARS
Muffins,Pretzels,Baklava-you know how I am about dense food :)
Girl Movies: Blecch
Underpants. Nuff Said.
Men Who Wax and/or Tweeze, EEW. Men are SUPPOSED to be
Hairy! The Ones Who Arent Get Eaten by the Stronger of the
Species.
Going with the Above theme: Metrosexuals...you know what I call
men who spend hours shopping for designer clothes, and making themselves pretty? WOMEN.